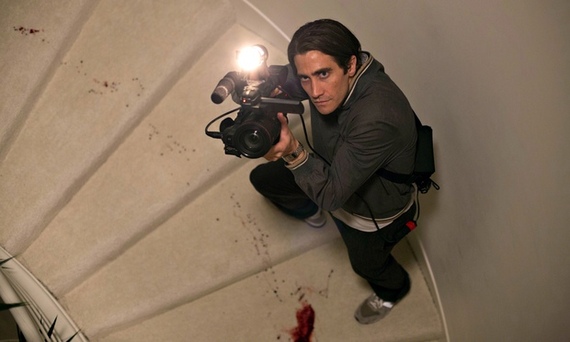 It seems this year, due to internet limitations, I will only review films that are current whether they be in the cinema or released on DVD recently. I picked up
Nightcrawler
recently after missing its run in the cinema (which I regret, I really wanted to see it but I didn't last long) and, after hearing everyone's disappointment about Oscar snubs this year, I am prepared to dive into it. So, let's take a look at
Nightcrawler
and all its non-Marvel related weirdness (so this and
Whiplash
aren't Marvel related? Huh...).
Lou Bloom (Jake Gyllenhaal) is a down-on-his-luck man having a hard time finding a job that suits him. After witnessing a car accident and seeing a freelance videographer capture the footage for the news, Lou is inspired to buy a camera and set off to record his own footage. His unique demeanour makes him the perfect man for the job after impressing Nina (Rene Russo) with up close and violent footage from a stabbing. Lou's empire starts to build with the recruitment of Rick (Riz Ahmed) and slowly begins to step over the line from observer to participant.
Jake Gyllenhaal is amazing. He is simply fantastic. I haven't seen someone completely embody a character like this in a long time. I said that J.K. Simmons in
Whiplash
was the best performance of 2014 (and I stand by that) but I can still tell it's J.K. Simmons which his part of his charm. This, however, I can barely tell it is Gyllenhaal. He becomes one with Lou and its scary just how impulsive and possibly demented he is. Rene Russo also holds her own very well, almost playing the complete opposite of Gyllenhaal. While Lou is quiet and reserved, akin to the likes of Norman Bates from
Psycho
, Nina is more abrasive and almost fanatic about the violence Lou captures on video. The two make a duo that make for some great chemistry and scenes together.
Nightcrawler
is a very suspenseful film that had me on the edge of my seat. I really had no idea where the film was going and I always say that's the best kind of film. The last act is especially thrilling and the score plays very well into giving the film it's edge. I am sick of the Oscar's opinion of movie scores as all the best ones are snubbed in favour of praising Hans Zimmer some more for the same music he's used since
The Dark Knight.
Many, many films in 2014 had wonderful scores such as
Guardians of the Galaxy
,
Whiplash
and, plainly,
Nightcrawler
. They have lively, vibrant and varied scores rather than just slow, low droning that films have done in the past. Hell, even
A Million Ways to Die in the West
had a catchy score and original song (only awards I could see it getting though...). The writing is also fantastic and was the only nomination it got. I suppose that element got attention at least.
Nightcrawler
fell under the radar because it didn't last long in the cinema and was snubbed for Oscars across the board. Jake Gyllenhaal is at his best here with Rene Russo also delivering a good performance. The atmosphere and tension the film builds is wonderful and has you guessing all the way while holding you on the edge of your seat. Do yourself a favour and pick this up when you can.
Nightcrawler
is a thrill ride from start to finish with some fantastic acting.
Verdict:
8/10
A thrilling suspenseful film with Jake Gyllenhaal at his best that, sadly, many people missed.