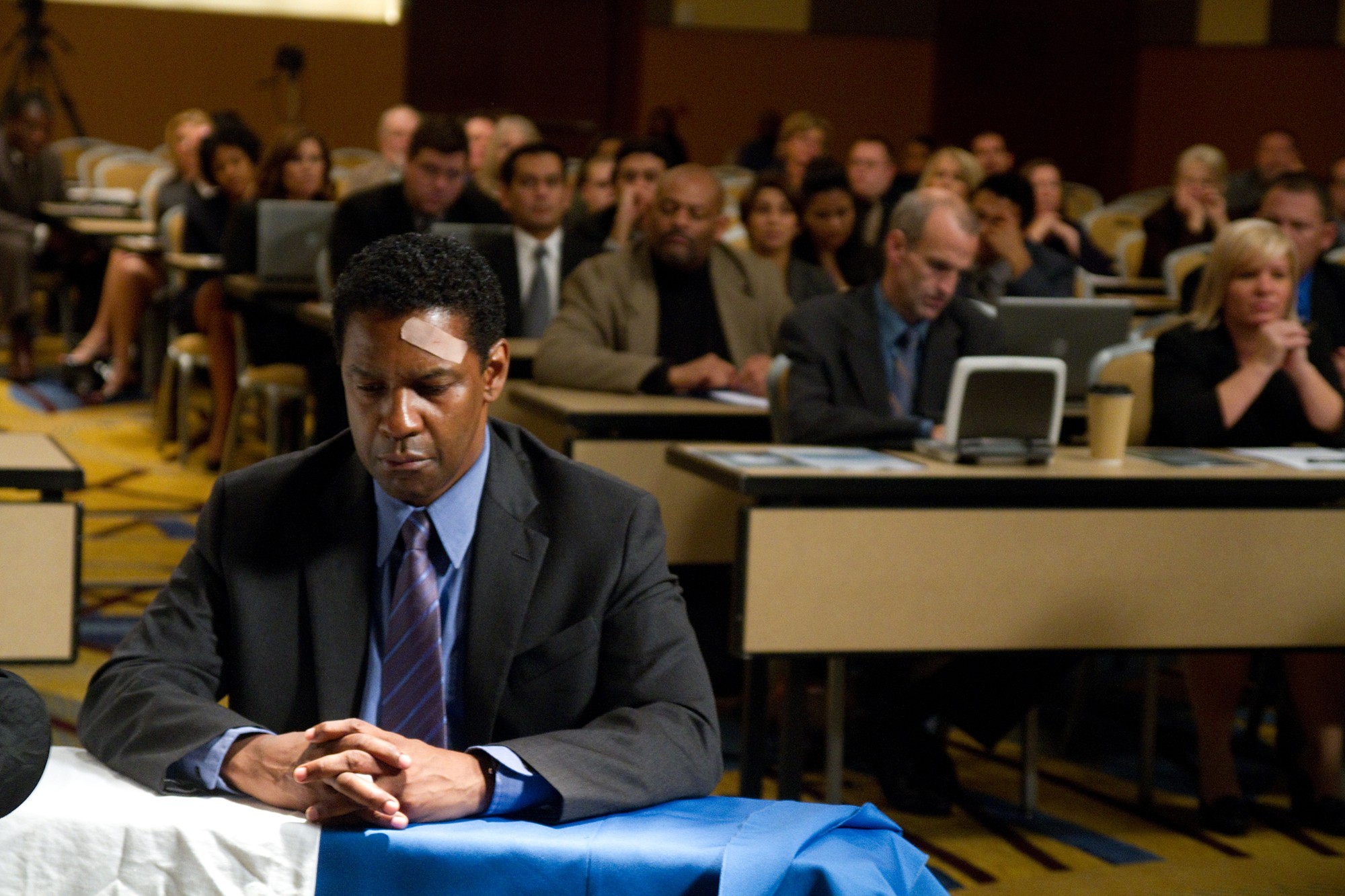 Why is it that everything I've been watching has plane catastrophes recently?! First I watched this movie, which focuses on the repercussions of the averted disaster, then I saw an episode of
An Idiot Abroad
and now I've been re watching
Breaking Bad
(nothing will fill that empty void in my heart) so I thought it would only be far to catch up on this movie...considering I've had it in draft form for ages in the hopes I would see it in the cinema...which didn't happen.
William 'Whip' Whitaker (Denzel Washington) is an alcoholic, drug addicted pilot who manages to stop a potentially catastrophic crash with an unbelievable maneuver that could not be simulated. He is hailed a hero while recovering in hospital where he meets Nicole (
Kelly Reilly), a recovering heroin addict. All goes well until blood tests reveal that he had alcohol while flying the plane. He works with Charlie Anderson (

Bruce Greenwood) and lawyer Hugh Lang (Don Cheadle) to try and prove his innocence.
It is notable that Denzel Washington was nominated for an Academy Award for his portrayal of Whip and I can say that he definitely deserves it as, while Whip isn't exactly a likable person, you do get invested in his turmoils that ultimately leads to a bittersweet ending (I wasn't sure what do think!). Co-stars like Bruce Greenwood and Don Cheadle also do a good job of offering support to Denzel Washington's performance. The peak of the film is the opening plane scene (not to say the rest of the film is bad, I'm just saying that this scene is amazing). The visuals are excellent and it really captures the feel of flight...or lack of.
However, Kelly Reilly's character is almost pointless and has no reason being in this film. Her plot goes nowhere and, while you could argue that it affects Whip's life, it doesn't show it well. The second act of the film is also lacking in comparison to the opening and last acts (the last act is especially gripping). Ultimately, it falls a little short in the middle but is sandwich in between acts that more than make up for it.
Flight
definitely proves Denzel Washington's acting ability is great along side an excellent supporting cast with a gripping opening and ending. While it does drag in the middle, it picks up immensely. The opening scene with the plane is more than worth the price of admittance. So not HIGHLY recommend but recommend nonetheless.
Verdict:
7.5/10
While it dags in the middle, it picks up with great opening and ending acts and acting.