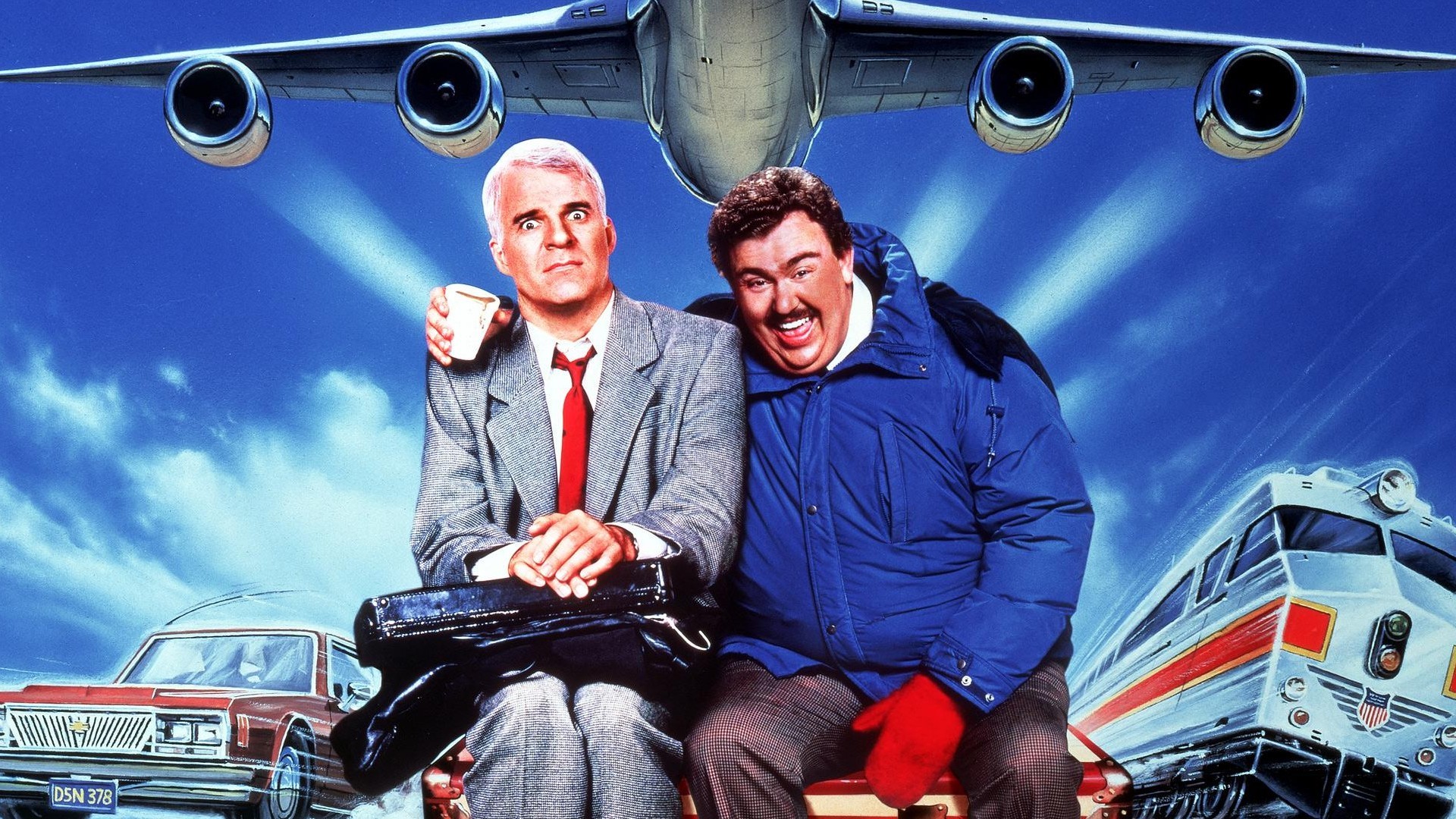 One of the first films I reviewed was
Ferris Bueller's Day Off
and much later I took a look at
The Breakfast Club
so I figured it was time to look at another 80s John Hughes film that focuses on adults as opposed to teenagers. Let's take a look at a John Hughes film with a different setting,
Planes, Trains and Automobile
.
After a long day at work, Neil Page (Steve Martin) just wants to get home so he can spend Thanksgiving dinner with his family. After having his taxi stolen, his seat reservation denied and his flight grounded by bad weather, Neil winds up stuck with Del Griffith (John Candy), a shower curtain ring salesman as well as a blabbermouth. The two have to set aside their differences in order to traverse the country and get home in time.
John Hughes always made great, classic films in the 80s and
Planes, Trains and Automobiles
is no exception to this. Just like
The Breakfast Club
and
Ferris Bueller's Day Off,
this one does great on both the comedy and heartwarming moments. John Candy and Steve Martin make an excellent comedic duo and play off each other very well. This is probably John Candy's best role as he manages to be a blabbermouth yet you get that sense that he is a genuinely nice guy. The same goes fro Steve Martin who conveys a character that, while may be grouchy at times, proves to be simply an overworked jerk with a heart of gold. This leads to the great combination of hilarious moments and heart warming ones.
The film seems to run on the idea of "how bad can things get" with things getting worse and worse for Neil Page. This is what makes the movie stand out as it builds onto the hilarity of the situation. If you've watched shows such as
Family Guy
, you have probably seen many references which is to be expected considering how memorable this film is. The film dedicates to the two characters with no other main characters which makes for an excellent dynamic between the two stars.
Planes, Trains and Automobiles
is a very enjoyable flick from the great, late John Hughes and can go well with the likes of
The Breakfast Club
and
Ferris Bueller's Day Off
but tailored more towards the adult audience who are looking for a hilarious and heartwarming experience. As you could probably tell, I've run out of 2013 films to review and just in time since the Oscar nominations have been released. I'll probably do something similar at some point.
Verdict:
8/10
Steve Martin and John Candy make an excellent comedic duo in this heartwarming and hilarious flick.