Yup, it's finally time for this. I know it took me long enough (it's already 2 months into the year) but I wanted to get the films I wanted to see done. Sure there were some I missed like Lincoln and ParaNorman but...I imagine they won't be as good as these 10 films (yup, prejudice and bias at the same time). Well then, it's time to start my very first top ten list and my very first 'Best Films of the Year' list. Let's do this!
While it doesn't reach the greatness that the
Lord of the Rings
films reached, it is still a great film in its own right. Martin Freeman stands out with excellent talent on an amazing quest that recaptures the vast world of
Lord of the Rings
that enthralled us all those years ago. The series has definitely come a long way and I anticipate what lies ahead on this journey.
9. The Pirates! In an Adventure with Scientists!
Aardman is back with a bang as they managed to win over the crowd with a brand new film. I thought that it would be good, but not great. I was very wrong. The key to this film is likeability due to how well the characters are developed with the help of a star studded cast and some amazing modellers. It's good to see Aardman back in the game to rival those other stop frame animated films. Also, you may want to watch this film several times. You'll probably notice some new films (yes, it's one of those films).
See original review here:
The Pirates! In an Adventure with Scientists! (Peter Lord, 2012) Review
Being a massive gamer, this was a must-see! I came for the video game references and cameos but I stayed for the heart-warming adventure and excellently crafted characters. Naturally, if you're any kind of video game fan you should have seen this already but in case you haven't, it's the best video game film of all time. Do yourself a favour and watch this even if you're not a game fan.
See original review here:
Wreck-It Ralph (Rich Moore, 2012) Review
And here we have another film up for best film at the Oscars. Most people tell me that they all wanted to see this film because of the epic action of epicness and the bizzare island seen in the trailer. I didn't. I wanted to see it because I wanted to see if it could pull of the isolated feel of being trapped on a boat with a tiger. I get the feeling that this is one of those films that will probably sweep the Oscars (well, this or Lincoln).
See original review here:
Life of Pi (Ang Lee, 2012) Review
.
6. Argo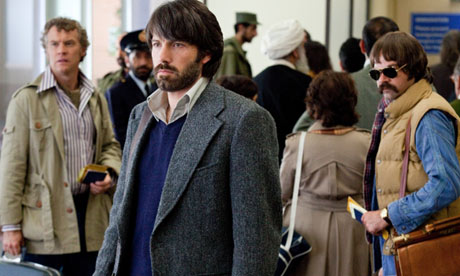 This was the film that one the Academy Award for Best Picture and I can certainly see why. The writing is great with some excellent and memorable acting from the likes of Alan Arkin and Bryan Cranston. The only weak links are Ben Affleck's rather bland performance and making America out to be the best thing ever (really?). Certianlly deserving of the award.
See original review here:
Argo (Ben Affleck, 2012) Review
5. Looper
From what I can tell, not alot of people saw this film. I'm not really sure why considering that it stars two very popular actors and is about time travel. Maybe people thought they would get confused. Well, I didn't so that must mean they did something right. Well trust me, they did alot right. The only other film I've seen that deals with time paradoxes is
Back To The Future Part II
which
Looper
seems to get its inspiration from. It's a clever film that you should pick up now that it's on DVD.
See original review here:
Looper (Rian Johnson, 2012) Review
4. Les Miserables
I think it's a good sign when I can say that
Les Miserables
was the first film I ever cried at...well, I say cry, it was more a single dramatic tear going down my face (I'm a dramatic person). Why? Because of the scale and beauty of this film. The songs are fantasticly performed especially considering that the actors sang them live on camera and there is some amazing strokes of genius involving the casting. You've probably already seen this but if you haven't, then you're missing out.
See original review here:
Les Miserables (Tom Hooper, 2012) Review
3. Avengers Assemble
Wow, this was the very first film that I reviewed (honestly, that review is a bit crap now but I still stand by my score). Most big action films have original characters that we've only just met but what
Avengers Assemble
does differently is establish these characters in previous films and therefore makes the coming together of these iconic characters even better. Quite a lot of people who don't even like comic book films have found something they like in this film so clearly Joss Whedon has done something right.
See original review here:
Avengers Assemble (Joss Whedon, 2012) Review
Well, this was an obvious choice. I'm almost certain that this is on everyone's top films of 2012 list and for good reason. The conclusion to the epic Dark Knight Trilogy was everything I wanted from the finale. With one of the best endings and best villain of the year under it's belt,
The Dark Knight Rises
was everything that the huge hype lead to. Some people thought it didn't quite hit the height of
The Dark Knight
and, while I can see why, I think the idea that it's the finale really escalates the film. But wait...there is one more film to look at.
See original review here:
The Dark Knight Rises (Christopher Nolan, 2012) Review
1. Skyfall
Talk about a much improved sequel. After the disappointing bland Quantum of Solace, it would seem that many people weren't ready for a contemporary James Bond. After fighting through development hell, we were given Skyfall, the 23rd film in the franchise. Who would have guessed that this would end up being a candidate for the best Bond film! Daniel Craig pulls all the punches as he solidifies his role as Bond against Javiar Bardem's amazing villain Raoul Silva. All I need to do to convince myself this was good is just listen to the theme tune alone. It's good to have you back, 007.
See original review here:
Skyfall (Sam Mendes, 2012) Review
So what didn't make the cut?
The Amazing Spider-Man (Marc Webb, 2012)
Men In Black III (Barry Sonnenfield, 2012)
Seven Psychopaths (Martin McDonagh, 2012)
The Hunt (Thomas Vinterberg, 2012)
The Hunger Games (Gary Ross, 2012)
Ted (Seth MacFarlane, 2012)
Brave (Mark Andrews, Brenda Chapman and Steve Purcell, 2012)
The Woman In Black (James Watkins, 2012)
ParaNorman (Chris Butler and Sam Fell, 2012)
Ice Age: Continental Drift (Steve Martino and Mike Thurmeier, 2012)
Prometheus (Ridley Scott, 2012)
The Lorax (Chris Renaud and Kyle Balda, 2012)
Adventures In Zambezia (Wayne Thornley, 2012)
And for the record, this quote was from my review of
Prometheus
: "Trust me,
Prometheus
will be nominated for something...I just don't know what!" CALLED IT!
So with that out of the way, there probably won't be a review tomorrow...kind of just did this list so...yeah...